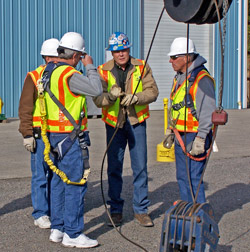 This industry is far more complex than any outsider would imagine. Fortunately for our customers, CLP keeps things straight forward and simple. We keep our regulars informed and up-to-date about new and used equipment along with training and available drivers. If your company has a need for any specific piece of equipment and we don't have it, we will locate it or offer design specs that are customized for the job's requirements.
Rigging is an area of expertise that is demanded on any industrial site. Rigging and crane operating, as well as knowing the right touch to put on a crane hoist requires a lot of working knowledge. In combination with experience the operator must be confident. Without these two important components the job site is looking at too much of a liability. Accidents are rare, and CLP's aim is to reduce "rare" to none.
When a workforce is well trained the odds of error go way down. The confidence in running a crane is necessary without the cockiness of an inexperienced employee trying his or her best. Hours in the cage make a big difference and the only way to gain experience and knowledge is through guided training in an apprentice program – then putting in the hours. Trial and error work in the field on an active job site is not an option. Rigging cannot be second rate. More training goes into rigging. In the recent past more of the older generation is retiring and new recruits are coming in on probationary status even prior to joining an apprenticeship program.
Although it's an important aspect of crane operation a rigger isn't a part of a recognized trade. Tradesmen certified as pipe fitters, iron workers and boilermakers are the trades in which most riggers are pulled. Since there is not an across the board certification different rigging jobs pull tradesmen from the most applicable sister trade. For example, iron workers are taught how to rig columns and beams.
It's necessary to invest smartly in your workforce. Knowing the timing as to when to begin integrating new workers with the older, more experienced workers will keep a company viable. The older employees have the knowledge and skill as they approach retirement age that keeps a company in good standing. Having too many green riggers lacks the on site know-how needed to run a job smoothly. Maintaining a balance is part of being competitive and having a successful business in a changing industry. A good work force translates to job security, since the employees know that they will bring in more jobs earned from a good reputation. Failure to invest in reliable staff and comprehensive training will come back to bite any company in the proverbial backside.
Safety always comes first, there is no substitute, but at the same time every job has to watch the bottom line. A well-trained work force adds up to efficiency, which adds up to a healthy financial report. What's been your experience with riggers – the good, the bad and the ugly? Let us hear from you with tips of the trade or any insights you've had while on the job. Leave a comment below.