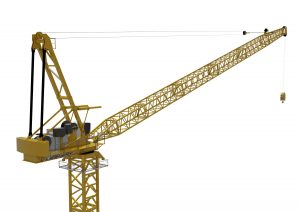 Each job requires individual applications. Our equipment is top quality and customized to the needs of the client. Every piece we help design, construct deliver and train on, is specifically intended to get a particular job done. Our sterling reputation of over two decades depends on it.
CLP recently worked up a design for a paving company that had been contracted for a project which involved accessing some rough terrain. They were employed to follow a newly constructed platform laid out by engineers who were bridging a large crevasse. The area required two Jib Cranes with long reach and steady platforms.
They needed an industrial machine that could tolerate twenty-two hundred pound loads. The project manager faxed us the specs, and our design team came up with a workable model within 10 days. Changes and approvals took another 6 working days and the crane was built and delivered within an 8 week time frame. We aim to please.
There are several types of cranes. It's never a one size fits all operations. Other companies who try to cut corners and simply modify existing equipment often find themselves with customers calling with shut-downs delaying the project. Modifying an already workable model is not always a short-cut. Using tried and true mechanical layouts sometimes do fit the bill, but always without exception, some adaptations will be in order.
The industrial construction site is complex. At CLP we try to keep it simple. We offer other site equipment. We have the smaller components, like benches, and chairs, bins, shelving, stackers, wire partitions, lift tables and carts to reign in and organize an overly complex project. But we primarily specialize in cranes, mezzanines, hoists and conveyors. We have several basic crane models: Floor Cranes, Monorail Cranes, Jib Cranes, Forklift-mounted Cranes, Gantry and Tripod Cranes and Bridge Cranes.
All of our material handling equipment was at one time made to order, but we also have a large leasing division. Many of our regular customers take on projects that are not as big as the paving company I mentioned earlier. They may only need a crane or other equipment on-site for a week or two. They know our penchant for quality and customer service, so CLP is their first call.
Cranes 101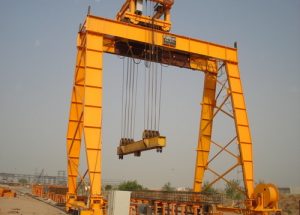 Gantry Cranes get their name from the way they approach the function they perform. They are built atop a gantry or a stable framework. They are portable in that they are on wheels or rails.
A Bridge Crane and a Gantry Crane are often referred to as the same piece of equipment. Technically, this is not the case, but they are both designed to work as an overhead bridge that straddles their workload. The main difference between a Bridge Crane and a Gantry Crane is the Bridge Crane is not on wheels or a floor rail. It is in a fixed location with a movable hoist.
Jib Cranes are what you commonly see at building construction sites. They can be built small to work inside a building, or extend to be the long arm, reaching machines that are typically seen outside which have an elevated operator base.
Monorail Cranes are lightweight and fast. They are meant to deliver materials to specific locations. It is on a trolley with one stationary beam that has a hoist. Everyone who has ever taken their clothes to a dry cleaner has seen one of these in use behind the counter. The clothes are hanging from a monorail delivery system that operates with the push of a button.
These are just a few of the models of cranes that keep the world moving. CLP has a passion for getting the right equipment in place, for the right job.