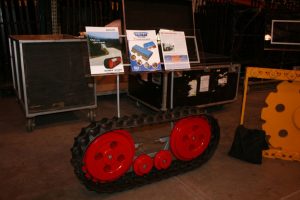 Throughout the year there are several crane events on the calendar that CPI won't miss. We make a point to be a part of these shows every year for several reasons, but basically, it's simply a good way to build relations. The more we're visible the better it is to see us. I realize that sounds like a Yogi Berra quote, but it's just a fact of the industry.
Business to Business
Just as a web design company would promote their services at local trade shows, a large equipment supply and manufacturing company would naturally show up at crane events. There are technical as well as mechanical advancements faster than most can afford, but there is a constant stream of useful communication between vendors. Cutting edge knowledge comes from learning what's new. (Yogi again?)
Business to Customer
Public relations like in any business – it's who you know. In the business of large industrial equipment rental and sales, schmoozing with our customers as well as your competition can prove invaluable. People do business with those they like and trust. Showing up at events establishes a certain level of familiarity that builds on itself year after year. Another important aspect of attending events is seeing the latest innovations. Learning about the newest advancements in the field that come to light every year gives us all the inside track to being a better company.
This year the show that has peaked everyone's interest is the Chicago Crane and Industrial Equipment Convention. CCIC is focusing on the latest safety innovations. In the interest of keeping crew and equipment secure on the job, there will be over 75 vendors at the event. The number of human fatalities has increased over the past decade and there is always a push to increase safety. If a company has the misfortune of having an accident on-site, it is a long haul back into the good graces of the end users. Along with the loss of life and equipment there is the loss of trust. Building back from an accident is very challenging emotionally and financially.
Fun to Kids
For the past several decades,CPI has done a lot of business with some of the old timers from most of the other heavy machinery and crane operations I look forward to glad handing with these veterans in the field every year. Some guys have been around the industry for 35 years and pride themselves for being on the forefront of what's new. This year, since they know I've got kids at home they took me aside and told me about the crane video games that they've discovered since the last convention. It's fun to surprise my boys with "cool stuff." I downloaded 3 crane games for my boys. Racing Cranes – has a 4+ star review, Devastating Ball – only 3 ½ stars, but a very 12 year old boy title, and Magnet Loader with 5 full stars. It gives the kids an unrealistic frame of reference for what their Dad does, but it also gives us something we can do together. For the record, they beat me 3 out of 4 times.
The conventions are not all work and standing on your feet 12 hours a day. They are a way to stay on the pulse of the business. They are a break in routine and they are often the inspiration for being better at what we do.
To leave a comment enter your thoughts below.